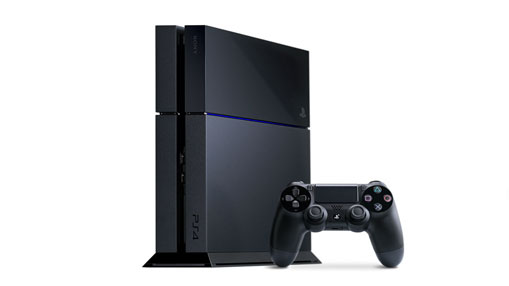 The PS4 will launch this Holiday season (before Thanksgiving most likely) for $399, €399, or £349. What do you get for that?
Main processor

Single-chip custom processor
CPU: low power x86-64 AMD "Jaguar", 8 cores
GPU: 1.84 TFLOPS, AMD Radeon™ Graphics Core Next engine

Memory
GDDR5 8GB
Hard Disk Drive
Built-in
Optical Drive (Read only)
I/O
Super-Speed USB (USB 3.0), AUX
Communication

Ethernet (10BASE-T, 100BASE-TX, 1000BASE-T)
IEEE 802.11 b/g/n
Bluetooth® 2.1 (EDR)

AV output

HDMI
Analog-AV out
Digital Output (optical)
Whoa! GDDR5?! And 8GB of it?! I don't even know what that means, but it sounds SCHWEET! What is it Mr. Chris? Well its stands for Graphics Double Data Rate 5, or basically graphics memory, what you would find on a modern graphics card, but the PS4 shares it's graphics memory with the it's random access memory, or RAM. The Xbox and modern PCs use DDR3 RAM, which is much slower, so this is very good. The processor and graphics card have been designed by AMD, and are based of a PC architecture, which is great news, because while the PS3's cell processor was pretty sweet, it was really hard to develop for, and this stream lines it, and makes PC/PS4 ports easier, so better games for both platforms. That's what I call a win-win! It's also got USB 3.0, which is neat is backwards compatible with USB 2.0, something the PS4 isn't with the PS3. Instead they are launching the streaming service Gaikai to stream old games to the system, launching sometime in 2014.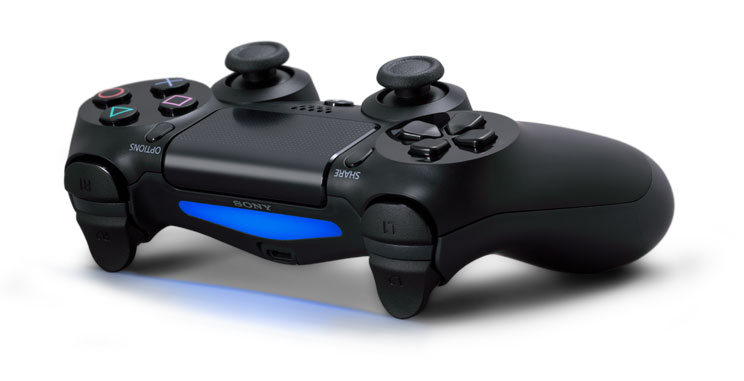 So what's with this Dualshock 4 controller thing? Well first off, it's got a touch pad right smack dad in the middle of it. It'll be interesting to see how developers utilize this feature. In addition to this it has a light bar that can change to 4 different colors to help track players if you have a PlayStation eye add on. Then there is the Share button, which allows you to stream or upload video of you dying a lot. It's also got a built in speaker, because you know, your TV speakers aren't good enough. They also apparently enhanced its vibration, and changed its shape to be more comfortable.
What really matters is how does it play games, and the PS4 shines here. Destiny is absolutely gorgeous on the PS4. Assassin's Creed Black Flag also looked really good when you saw them running through the jungle. Remember that floating head tech demo from the PS4 reveal? Well it was back at E3, only it had a body to go with it, and a whole set around the character, who talked and moved very realistically. It looked really, really good.
So, do I own my games? Can I trade them in, lend them to a friend, play them without connecting to the internet? I can't right? Because that's not next-gen right? RIGHT? Sony doesn't think it's a part of next-gen, and won't restrict what you do with your disc based games, but they also aren't restricting publishers from restricting you either. It's also very indie friendly, with several indie games shown off at E3. Wait, you said disc based games, is there another way to get games other than a disc? Why yes there is, and it's the main way to get games on a PC, something called Digital Distribution. No longer do you need to put pants on to get the latest game, just hit 'buy' on your PS4, and it will begin downloading, but while it's downloading, you can start to "stream" it and play the game without having to wait a couple hours. Pretty sweet if you ask me.
What about PlayStation Plus you ask? Well, it carries over, and as an added bonus you get Drive Club: PS Plus Edition day one! You will however need PlayStation Plus ($50/year) to play online multiplayer, but you don't need it for video services like Netflix. You also won't need it for Free to Play multiplayer titles, so the amazing Planetside 2 that's making its way from the PC to the PS4 will truly be a free title, unless you know, you want to buy shiny decals and don't want to wait to unlock weapons and such.
Speaking of Planetside 2, an MMOFPS, it'll be joined by other MMOs on the PS4, like DC Universe Online, and the upcoming Elder Scrolls Online. Get ready for your life to be sucked away on your console now.
The PS4 has shaped up to be a fantastic gaming console, complete with remote play on the PS Vita. They also dropped the bombshell that there are 140 games in development for the PS4, with 100 of those releasing in the first year. It's no secret that I'm a huge Planetside 2 fan, so that alone has me putting my money on the PS4. All in all it comes down to what exclusive titles you want, as hardware specs wise, these consoles are very close, and both deliver excellent gaming experiences, just with different takes on internet connectivity and how the software handles everything.